Webinar Calendar

How to Sell Argentina with Aerolineas Argentinas
Tue June 27, 2017 @ 3:00 pm

-

4:00 pm

PDT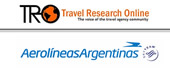 Click to Register
Brought to you by Travel Research Online.  This webinar is to inform agents how to sell Aerolineas Argentinas and its domestic destinations.
There are plenty of reasons to travel to Argentina. As the most populous country in South America and largest Spanish-speaking country in the world, Argentina has distinct and beautiful geography, interesting history and culture, thriving nightlife, and unique local cuisine. It's no wonder why Argentina attracts thousands of visitors every year. Here are a few reasons why tourists can't get enough of Argentina, and why you might want to plan a visit soon.
A country that always takes an opportunity to celebrate, Argentina has many different kinds of festivals. Buenos Aires is a host to festivals throughout the year including the Buenos Aires International Festival of Independent Film (BAFICI); Fashion Buenos Aires which celebrates fashion in a week-long event twice a year; La Rural, the nation's two-week farm fair and gaucho festival; and a gay pride parade. There are festivals celebrating art, music, and the tango as well. JuJuy celebrates the "Semana de Jujuy" when the usually quiet city comes alive for a week of partying to celebrate its founding. In Villa General Belgrano (near Córdoba) Oktoberfest is celebrated during the first two weeks of October with an enormous beer festival that celebrates German culture… and Aerolineas Argentinas will take you there.
We have excellent connections to all Argentina and our service on board will make this experience more Memorable for your clients.
We look forward to your participation in our webinar.