Webinar Calendar

Sustainable Cruising In Patagonia
Wed September 25, 2019 @ 3:00 pm

-

4:00 pm

EDT
Event Navigation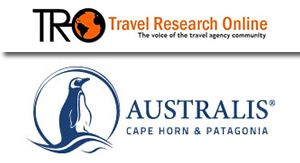 Click to Register
Presented by TravelResearchOnline.
Protecting the wondrous land of Patagonia while sharing it with our guests is our primary goal at Australis Cruises.
In this webinar we will be taking our attendees on a journey through this vast, oft-overlooked region in Southern Chile and Argentina. Our presenter will cover the basics of why your clients should visit Patagonia with Australis, starting with the different locations that they can visit and continuing with why our ships are uniquely equipped to take them there. Glaciers, penguins, vast fjords, and unforgettable Cape Horn are only a few reasons why Patagonia is a good choice for any traveler with an adventurous spirit.
And sitting alongside this incredible experience is our commitment to carry out our operations in such a manner as to minimize any actions that may harm the environment. During our webinar, we will discuss how we educate our guests, conduct business operations and cooperate and support scientific discovery of this pristine region.
There will be a Q and A portion at the end of the presentation.