Webinar Calendar

Exploring Argentina with Aerolineas Vacations
Thu March 9, 2017 @ 10:00 am

-

11:00 am

PST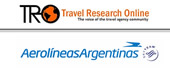 Click to Register
Aerolineas Argentinas and its featured Tour Operators invite you to learn about their brand new packages to Argentina: Aerolineas Vacations.
Aerolineas Argentinas, the national flag carrier of Argentina, offers 16 flights non-stop per week from Miami 7 flights non-stop from New York to Buenos Aires and recently introduced "Aerolineas Vacations", a tour package program for travelers originating in the United States. North American tourists can visit the principal attractions in Argentina one of the most appealing and safest vacation destination. Argentina offers a number of options and activities from which to choose. These include but are not limited to visiting areas with vastly difference climates, and cultures as well as enjoying the local cuisine, sports and the great outdoors. "Aerolineas Vacations" has had years of success in Argentina and now hopes the same success can be enjoyed by North American travelers.
In addition to hearing from the featured tour operators, you will hear from Marcelo W. Bottini, Regional Director North América, Central América, Venezuela, Perú, Colombia, Ecuador, Oceanía and Asia. He manages all commercial and administrative operations for offices in his area. Mr. Bottini began a remarkable twenty-seven-year career with VARIG Brazilian Airlines in 1979 working in back-office support and rose to the level of President and Chief Executive Officer.