Webinar Calendar

ARGENTINA FOOD WINE COUNTRYSIDE
Wed October 24, 2018 @ 1:00 pm

-

2:00 pm

EDT
Event Navigation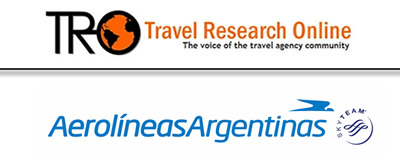 Click to Register
Brought to you by Travel Research Online.
Host by: Mercedes Bassi "Wine & Gastronomy" coordinator and Ariel Cohen " National Institute of Tourism Promotion, and Aerolineas Argentinas.
Join us and learn about the many reasons why you should sell ARGENTINA
• ARGENTINA is one of the best travel values in the world.
• Argentina gives you a 21% VAT refund on accommodations.
• Argentina offers maximum diversity in nature, adventure and culture where you find glaciers, deserts, mountains, jungle, sea coast and volcanoes all in one country.
• Argentina is known for one of the most famous wine regions in the world.
• Argentina is the house of the Tango – musical expression and sensual dance.
• Argentine cuisine is universally known by the quality of its red meat – Asado.
And why you should use AEROLINEAS ARGENTINAS when you sell Argentina
• The best price in Business and Economy class for your customers.
• Flying with Aerolineas Argentinas your customers can redeem miles on Delta or on 20 world class SkyTeam member airlines.
• Special commission to the Travel Agents (Up Front and Back End).
• Special Sales Support Team to assist you at any time.
• 2 daily flights from Miami, 1 daily flight from New York and 1 daily flight from Atlanta (codeshare with Delta Airlines).
• Special fares from many cities in the Unites States to the 37 domestic destinations within Argentina, through the Aerolineas Argentinas-Delta partnership.
• Argentinian culture and flavor on-board.
• Recognized on-time performance.