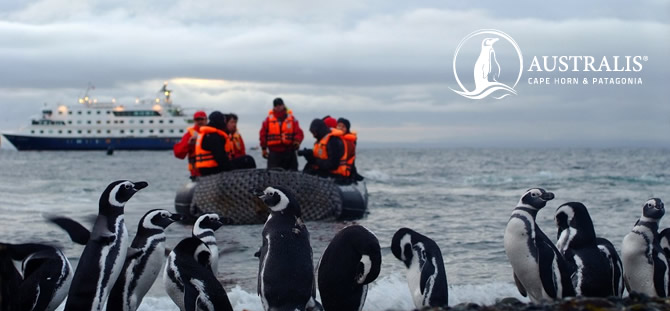 ABOUT:
Our Australis Specialist Program is an e-learning self-study certification course-with a variety of fun and informative multimedia lessons, using real-life examples and sharing insights that you will be able to immediately apply to your own business.
Comprised of seven modules of interactive on-line content as well as downloadable articles and resources, videos and other media, our program you can take as much or as little time as you like to learn.
We estimate the entire course to take no longer than 2 hours to complete.
Australis Specialist Program - Certificate Awarded:
Destinations:
SOUTH AMERICA
Patagonia
Tierra del Fuego
Style of Travel:
Small-Ship
Adventure
Ship in Fleet:
Stella Australis - 210 guests
Via Australis -  136 guests
What's Included:
Breakfast, lunch and dinner
Free Bar
Daily land excursions as scheduled by the ships
Whisky and hot chocolate during the excursions
All on board activities
Website:
Contact:
USA
4014 Chase Ave. Suite 215 - Miami Beach, FL 33140
CHILE
Ave. El Bosque Norte 0440 11th floor - Santiago
ARGENTINA
Pacheco de Melo 1833 6th floor - C1126AAA Buenos Aires
EUROPE
Ave. Comunidad Europea 4, Local B, 08917 Badalona - Barcelona
Telephone Numbers:
USA
TOLL FREE: (1-877) 678 3772
Skype Phone: (56-2)581 37 56
Office hours: Monday - Fridays, 10:00 to 6:00 p.m.(EST)
CHILE
Phone: (56-2) 442 3115 / F: (56-2) 203 5173
Office hours: Monday - Fridays, 9:00 to 6:30 p.m.
EUROPE
Phone: +34 - 93 - 497 0484
ARGENTINA
Phone: +54 - 11 - 4139 8400