Webinar Calendar

Secrets of Selling to the Affluent Traveler
Wed May 15, 2019 @ 1:00 pm

-

2:00 pm

PDT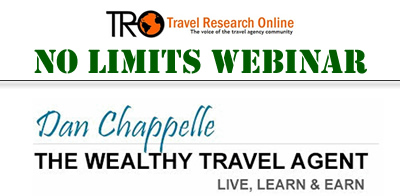 Click to Register
Presented by TravelResearchOnline.
The Luxury travel is one of the fastest growing segments in the industry. Luxury cruise lines are investing billions of dollars to meet demand. By 2020, luxury cruise inventory will have more than doubled since 2016 and again by 2025. It's not just cruises. Luxury niche and adventure tour companies are experiencing the similar growth.
Yet, according to an annual survey conducted by a leading industry weekly publication, travel agency focus on luxury travel is DOWN 5%!
Here's the thing, if travel professionals are not scaling to serve the demand – customers are forced to book direct with the supplier.
But why? The simple reason is – there are not enough "qualified" travel professionals to help meet this ever-increasing demand. I'm not talking about product knowledge – that's easy to get, I am talking about advisers who can find and sell to luxury clients.
Are you one of the thousands of other travel agents who only dream of breaking into this market? I have heard all the excuses. I say to them, "Tell me what you can do, not what you can't!"
But let's be real, there is a lot more to it than simply hanging out a shingle and announcing to the world you are in the luxury travel business.
Are you up for the challenge?
I created "Secrets of Selling to the Affluent Traveler" to take out the mystery and challenge the belief that luxury sales are limited only to a few chosen agencies and consortia.
Once you understand Luxury Travel, it becomes easier to find your prospects and you will be on your way to becoming the Wealthy Travel Agent.
Please join me, Wednesday May15 @ 1PM EDT / 10AM PDT, as I share three key strategies that I have learned selling to affluent travelers. I promise it will be time well spent!
P.S.-There will be a special offer for those who are committed to taking advantage of this incredible opportunity to build their luxury business.
I look forward to sharing these great insights with you!