Webinar Calendar

How You can Achieve Sales Success in 30 days or Less!
Tue November 27, 2018 @ 1:00 pm

-

2:00 pm

PST
Event Navigation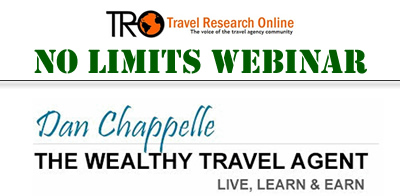 Click to Register
Presented by TravelResearchOnline.
If I told you that you can build a successful travel career…with little or no marketing expense, would you be interested?
You know, almost every executive and guru in the business will tell you that the only way to succeed is marketing, marketing, and more marketing. This is great advice, except for one simple fact, it's not true. You don't get paid to market travel, you get paid to sell it.
Unfortunately, virtually all the travel industry specific "sales" training is really just "marketing" training in disguise. That's because the bulk of it is created by marketing, not sales professionals – and it shows.
Frustrated, Dan Chappelle, a seasoned travel sales professional, has spent his career focused on mastering personal selling techniques. As a result, he built a successful luxury travel company, with minimal marketing expense and has taught his sales techniques to thousands of travel professionals around the world.
In this free training, Dan will share:
– How you can achieve sales success in 30 days or less.
– How to find qualified prospects without spending a dime on marketing.
– Why you should learn how to "Putt for Dough."
– The exact sales system he used to build his luxury focused business.
To learn more, you are invited to register for this free training.