Webinar Calendar

Compete with Costco Travel & Win!
Thu June 14, 2018 @ 3:00 pm

-

4:00 pm

PDT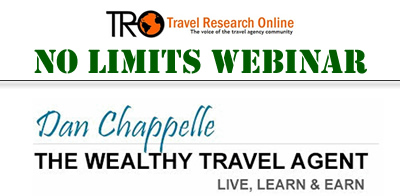 Click to Register
Presented by TravelResearchOnline.
Join South African Airways and a2b Destination Marketing on Tuesday, April 3rd.
Have you ever experienced helping a client plan a vacation only to have them call you and say they booked with Costco, Sam's Club, or BJ's because of a better deal?
It's the worst! Nothing is more frustrating and makes you feel more helplessness than when that happens.
So what can you do about the low prices, amenities, sometimes rebates cleverly disguised as gift cards that are a thorn in your side?
The answer – a lot more than you might think!
In this exclusive webcast Dan Chappelle, best-selling author and founder of The Wealthy Travel Agent Academy, will share with you:
-Why the client contacts the membership organization
-Why some suppliers like to do business with them and others don't,
-Resources you should know about.
In addition:
-The Five Step System you should follow to compete for the sale.
-The suppliers "Love / Hate" relationship and how to use it to your advantage!
-Why the Warehouse deal, may not be as the customer thinks!
-Five tools you can use to add value to every sale opportunity.
-How to "re-earn" the trust of your prospect to close the deal.
-Why you should never lose the deal if you are in the "ZOPA".
Sign up Now! Due to this sensitive subject matter, we expect this program to fill up quickly.